I had an opportunity to busk yesterday, Sunday, May 7th, and I took it.
Having scoped out the hotspots of DC, and recognizing that we are in the thick of the tourist season, it made most sense to try and busk in the vicinity of the White House. True, if I encountered a bagpipes player, it was all over. You can't compete with that sound: penetrating, morose,  cutting, sombre, wailing, impossible to ignore.
Guitar, by contrast, can be all over the map, from the gentlest classical chords to the poppiest tunes to power chords to string effects: stretching, hammer-on, pull-off, etc., arpeggios, scales, and melodies.
As luck would have it (and luck always has it), my wife attends and is active in a church in downtown DC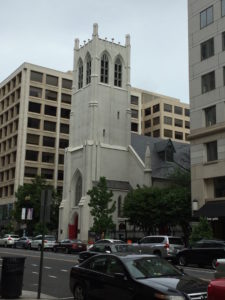 , namely the historic Anglican Church of the Epiphany, conveniently located two blocks from the White House. Parking is validated for her.

We picked up one of the lady pillars of the church community, and arrived exactly at 9:30. I took my OMCE Claro Martin guitar, which has become my favorite (surpassing my Ovation, which seems like it has gotten a little warped: the action is really high up the neck) and my Roland Mobile Cube Guitar Mini Stereo Amplifier. Plus a 10 foot long cable. This is my standard gear.
(I might look for a cheaper electro-acoustic guitar when I travel, because I don't think I can trust my nice Martin in a country where I've never been. )
Busking without making money is like playing poker with play money. The tips one receives are the only way to validate the music, though some people did comment to me that they liked my music while putting a dollar into the guitar case, so that's also gratifying. Anyway, I am saying this on a day that I DID make money. And that's an ego boost.  Out of the kindness of their hearts, people gave little ol' me $40.75 over the course of a 4 hour busk, again ringing in at about $10/hour (1 $5 bill; $2.75 in change).
I found my spot, planted my flag, and played for 4 hours until the haze had worn off and I started making mistakes. Plus I was getting tired of my busking rag.
Though the money is a ratifier, more relevant is what one learns busking. To successfully busk, you need three things:
heavy foot traffic,

decent acoustics, and

good sounds.
As to 1., besides heavy foot traffic, you also need a chokepoint and a hold zone. I've found that people will rarely deviate more than 5 feet to give a tip. Remarkably, on the street corner at the entrance to the broad walkway (promenade) leading to the White House on the south and Lafayette Park on the North is just such a configuration.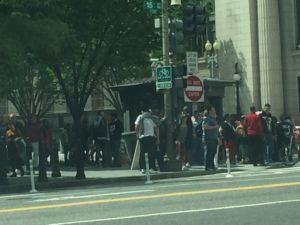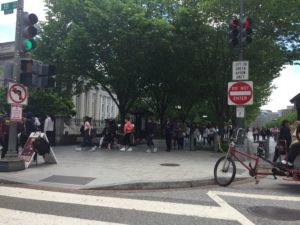 This location, which I had already seen was popular, is adjacent to the Treasury Department.  It isn't really a corner at all because it has become a pedestrian zone. The flow of folks leaving from Lafayette Park, where they got their view of the White House, is choked into a small stream, and the traffic light makes them stand around, sometimes for several minutes.
So I got there at about 9:45 am and set up shop–there was even a stone bench that made it a perfect spot. There were three pedicab operators and 2 guys hawking DC tours. They didn't seem to mind too much when I set up. In fact, they were quite welcoming.
It is remarkable to watch the diversity of human type pass by. Besides getting some tips, people were taking videos and pictures of me, and sometimes (including some guys from the Hashemite Kingdom of Jordan) selfies with me. Unfortunately, it is hard for me to take pictures when I am playing. I played the Star-Spangled Banner once, and it seemed to get favorable reception. I think I'll add a few anthems to the repertory.
As to 2., this is a technical issue that is mostly solved. My gear could not compete with a bagpipes or sax player or the opera singer who started around 1 pm, if she had stood 20 yards closer. But by putting the amplifier in the guitar case, the sound is projected forward and proved adequate for my needs. The trees also seemed to help to provide a semi-enclosed space.
A few observations: people want to have a good time when they are visiting the nation's capital, especially on Sunday. There were many groups of students, one from Indiana, and one from western New York. Sometimes there were tipping bursts where many members of the same group tipped.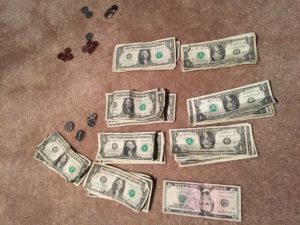 As to 3., I want to be adding different busking licks to diversify my set list. I'm looking for upbeat without being saccharine.
At 1:45 pm I prepared to leave, since I was meeting my wife at 2 pm. The two guys advertising DC bus tours thanked me for playing and said to get there early. Oftentimes it is taken by musicians who play it loud, which these guys didn't like. It didn't seem like a strategy that would work for the tourist crowd.
A police officer and a secret service agent passed by me, but didn't hassle me. This is a HUGE factor in busking. There was some other brass about, but the whole ambience was mellow. Score one for the District.
I had showered, and didn't busk in the shirt I slept in, so that superstition only applies to the first time busking. More on superstition and money making in subsequent posts.