The Crole River group was a partnership between Charles Dermer and Alexandra Fessenko to make the Crole River album of music.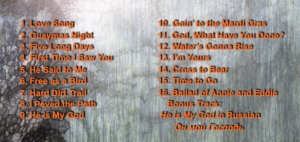 Some of the history of Crole River songs can be found on the notes to the demo versions of the songs at my soundcloud site.
This is a fragment of the Ballad of Annie and Eddie, sung by Alexandra Fessenko.
Other documentation related to Crole River is in the protected link. To access content, please use the contact form. The lyrics and charts to the Crole River songs are here. The CD art is reproduced here.