The busking high lasted maybe exactly one day.
I went back to continue my "scientific" studies, and arrived at the blue line Franconia Metro to play at about 2 pm to check out profitability of different times. I would say, though I don't have the full data to back me up yet, that 2 -3 pm is probably the trough that arrives when the current reverses from goers to comers.
Which is to say, that after 40 minutes, only $1 was collected, but no shame there, as the number of people that passed by was minuscule, maybe 10. I stopped playing to preserve my average, and was able to watch the comings and goings from my car, which were starting to be mostly comings by this time of day.
I noted the time when one coming reached its peak: 2:52 pm. I anticipated something, first every 10 minutes, then every 15, and then ever 20. After 20 minutes I figured there would be a huge wall of people, so I grabbed my guitar and amp and headed to the entrance of the metro.
After setting up and playing a few strains, I became suddenly surrounded by 4, I think, Metro police people, giving me the boot. I tried to prize some information out of them but they weren't amused. I looked around my shoulder and saw another white guy metro policeman who must have been the highest ranking, though I referred to him as backup. Then I referred to the black cop as backup, and then I decided I should stop talking.
I bickered and kvetched but I knew this would never get to yes. One of the black women metro police officers spoke as the leader, and when a woman's in charge, her word is law. They referred to me as a "panhandler," like I can help where I was born, and said I was "loitering," when I never felt so unloitering in my life. "Can't a man try to feed his family?" Even that didn't work. But she did offer me the information that I could try to get a busking certificate from Metro headquarters in DC.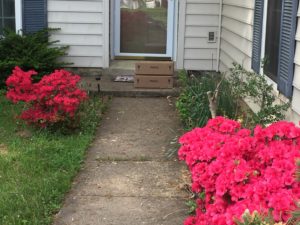 So ends my brief but illustrious busking career for now, though one can always employ different strategies (as suggested by my wife). Different stations, distinguishing those with parking garages and those without.
I returned home to the sight of two boxes on my doorstep containing the Crole River CDs: one with 165 and one with 130, the remaining 5 having gone to CD Baby. It sounds great. I now have product, and the big album release is May Day, following a party the day before. Now to write a letter.

I'm due for some community service. But the police just closed it in my face.
Update: Proactive dude already checking my white privilege