To busk: (v.i.) to play music for money,
to act with no expectation of reciprocity, and why should there be, since the pleasure of making music or having no fixed start and stop times exceeds any requirement of monetary compensation.
That is, provided you are a gentleman of independent means and can support your lifestyle on the revenue that you incidentally have coming in.
Or your girlfriend or wife.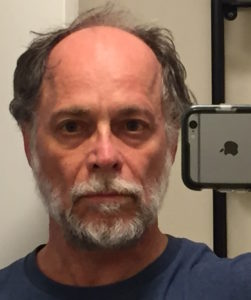 Strangely, money is the marker in life, and you can make its direction swing one way or the other.
But it helps to be indifferent to money. That is the freedom to have nothing left to lose but the trust fund, and the annuity. And the lifestyle. Trading down from Whole Foods to Giant. And from wine to beer to soda. And from trips to the casino to trips to 7/11.
So I finally got the nerve up to do some busking. This was one of the goals in my life, which was to overcome shyness and demonstrate my talent.
Forearmed with about 4 grams of the best DC merch I could score (from Curtis with the dreds), after a faithful Lent where I practiced the hell out of a metronome, and two set lists: one the 16 song set list on Crole River with another 5 post-Crole River songs, and the other of my 15 or 20 guitar instrumental pieces; and 2 covers, 1 country and 1 blues, I was ready.
First rule of busking: busk in the shirt you sleep in. (I think anyway hope this only applies the first time you busk; well, that's my rules which I make up as we go along but to which I faithfully adhere post facto. I slept and busked in the blue striped shirt lacking the decency of a pocket, even in the evening, and it was a bit sweat soaked when it was all over, to be honest).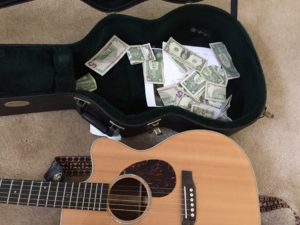 I made some money busking. Precisely, how much and where is unimportant, but already I have such a statistically large sample that I can generalize that I could earn a good $10 per hour tax free (if I would just stop talking) by busking (though you never know because if you become a regular somewhere, you might exhaust the givers. But in DC, there's the whole tourist brigade that should operate until Labor Day.)
I figure some 50 people gave, so that can't be a statistical fluke. OK, so here are the figures: I made about $30 per session in each of two sessions of 3 and 2.5 hours over noon and in the evening rush, respectively. I did this on the Thursday after Easter, Thursday, April 20th (pot day, which I spaced out). Over noon and evening, I got 3 and 2 $5 bills, respectively. I also got 2 $1 coins, a metro fare card (haven't checked the amount on it yet), and I got the card and met a fellow Husker (she was from North Platte, now lives in Woodbridge, named Tami). 
Five and one half hours playing! So my fingertips are a little sore now, and I can spend some time on an easier keyboard to play. 
My musical career is officially started, having a positive revenue stream for the 1st time in my life. Which really compensates for the $15K I put into music and lawyers just over the last year.
Yesterday all started with reading Chaucer in Middle English, which somehow I had forgotten about when I was in college. 
Whan that Aprille with his shoures soote
The droght of Marche hath pierced to the roote,
And bathed every veyne in swich licour,
English really made a dramatic change between Chaucer and Shakespeare, though the only real poet I have minimal familiarity with between Chaucer and Shakespeare is John Gower (1330-1408) who narrates Pericles, Prince of Tyre. 
OK, back to the subject at hand. I get to the Franconia Metro station around 11am. They have this great tube between the parking garage and the ticketing area that potentially has wonderful acoustics. Herewith I formally credit my wife for pointing this out. 
So I set up there, and not 2 minutes go by and there's a damn cop telling me I can't play. I learn later that he is just a flunkey metro cop, and that after his shift (7am – 3 pm), it'll be a new set of cops. They're just flexing their muscles, and anyway, there's a few regulars (I learn this from a couple black guys and a custodial guy (also black) who were all very cool.)
He pointed me outside, and I figured, Oh fuck, just a typical fuck-Chuck day. I get there, and all the sound, even with an amplifier, is lost to bus and car noise, and in addition there was a cop K-9 convention going on adjacent to the parking garage, so there were the barkings and squealings of dogs. At least that gave me something to try, so I tried to make the dogs whine from my playing, but after 5 minutes I recognized that I don't even have the sound to do that and I'm beat so wrap it up.
I go back the same place I come from, right up from the Kiss and Ride area through the staircase and out to the parking garage, and when I reach the place where the tube leading from the metro hits the parking garage, I realize that this is outside, formally, and it actually had some pretty wonderful acoustics. It wasn't the greatest in seeing the folks passing by, but still not bad.
Though remaining a little nervous that the cop will come back, and not wanting to become any more regular than I already am at Fairfax Circuit Court, I set up and start playing. After about 10 folks, a lady with her kids gave money–change–and it was about the only change I got! I was so happy to get some money I become a little effusive and it messes up my playing.
Then I play and play and play, just like I be doing at home, and money shows up! Nobody hassled me again, and I met some nice people.
Here are some additional lessons of that day:
Success in busking requires a good acoustic space and good foot traffic modulo good playing and music (I aimed for the upbeat);

Singing in a space like I was is completely different than singing at home (and better!);

I'm glad I have love songs. I think they work better than protest music which for tourists is probably about as relevant as gansta rap;

I'll make a little recording of my standard pull-offs with variations that are good for hours of playing (and have become my acoustical musical signature);

Don't get used to playing for money.

Don't get happy. You'll get fucked eventually. This is the music business, remember.
Update: amount on Metro fare card: $0.00