Yesterday, Tuesday, May 2nd, 2017, was a beautiful day, and it would have been criminal to sit inside staring at an electronic screen like I'm doing right now. So I made a plan to go to downtown DC and try to find a good place to busk.
Even though I got up early enough, before 7, it's really hard to leave the house early. By the time I was ready to go out, past 10, at least the vehicular traffic had cleared.
Shortfall: tried busking at Metro Center, Lafayette Park, Dupont Circle. I had no money success, which makes me think that my $60 day was an anomaly. At Dupont Circle, some guy from El Salvador stopped me and asked if I could play some tunes. He was waiting for a friend to play chess with. I told him that I basically only play my own stuff. That was okay, so I took out my guitar and played a bit for him, and he seemed to be into my playing. Later some Dominican guy came along. After 15 minutes I took my leave.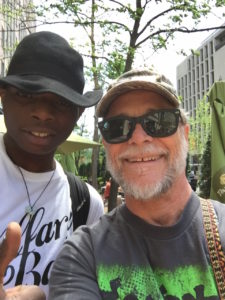 But then as I was about to leave from Dupont Circle, I crossed paths with Danny the Drummer, who invited me to play along with him. I did–still didn't make any money–but it was good enough just playing some music with somebody. Danny told me how he was in a band with his brother, playing hip-hop and rap, and that the good busking was on U Street in the evening.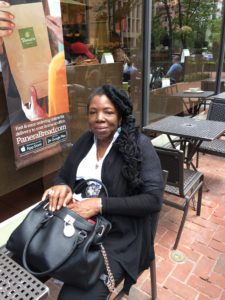 Later, Ms. Dorothy Douglas, who happened to be sitting down and listening from the outdoor Panera area nearby, made my acquaintance and said she liked my sound, and might even be able to find some venue where I might play. I told her I was looking for a female vocalist, and she even suggested that she might be able to help me there too.  She gave me her card. Dorothy is Commissioner to the District Government from Advisory Neighborhood Commission 7D. So meeting her was very cool.
Leaving from Dupont Circle, I missed Metro Center to change to Blue and went to Gallery Place/Chinatown, which was a destination I had also considered checking out. I didn't find anything inviting. The best places to busk that I saw yesterday  were the streets feeding into the White House from the East, the promenade between the White House and Lafayette Square (which was occupied by one guy with bagpipes, probably the most penetrating instrument you can imagine, though sax and trumpet can also reach across a field. Even the most dreadnought of guitar can't compete; even with my little Roland  amplification, the sound is lost without a wall. One wall good, two walls better, and four walls (a performance gallery), the best), the northwesterly part of Lafayette Square, and the southern entrance to the Dupont Circle metro near Dunkin Donuts.